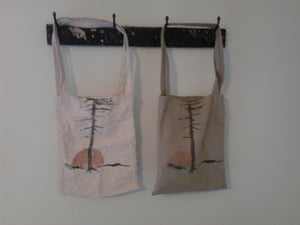 $

10.00
These bags were sewed by my friend Madison and printed by my friend Collin. They come in green or tan.
The artwork was created to coincide with the cover art for my upcoming cassette tape split release this summer. Both feature trees, and on the bags you'll find a small 'amy schmidt' etched on the horizon.
I use mine as a casual purse, and they work nice for carrying groceries, and purchasing one helps support independent music and art.
Contact me directly if you need shipping costs to places other than those listed.